Puffins!!!!
On our last day on Skye, we decided to take the longer route from our lovely Flodigarry Pod, over the top of the island alllllll the way around to the port town of Uig.  We were excited because we'd reserved a sunset puffin boat tour with the fine people at Skye Cruises.  After a brief "traffic jam" (a previous post definitely worth reading here), we found ourselves with plenty of extra time so we decided to check out a place called "Fairy Glen."  It's another fantastic thing to see on a long list of do not miss attractions in Scotland.  You can read about it here.
After returning from Fairy Glen, we grabbed a bite at a local Uig restaurant.  Jolene enjoyed what seemed like her two thousand four hundred and ninety-sixth helping of fish and chips, and I had a burger.  Soon after, we were greeted by Captain Tom and his first mate Duncan.  They checked us in and guided us aboard their boat, The Radiant Queen.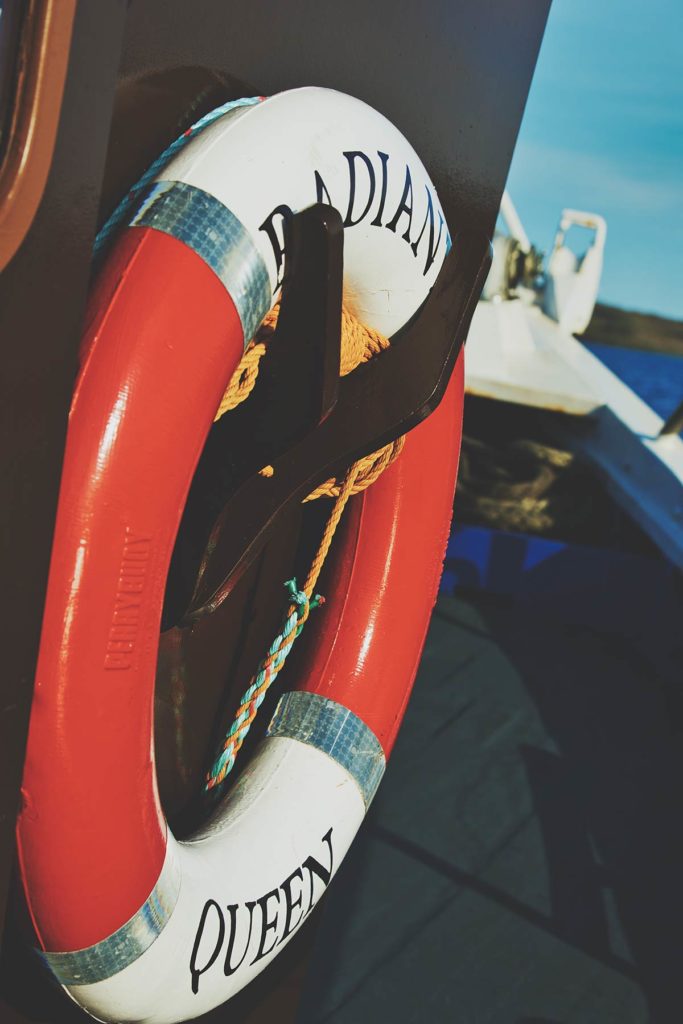 Traditional Scottish music was playing softly through the sound system on the boat and the galley offered a slue of snacks and drinks.  Jolene sampled a Skye Gold Ale, a local beer brewed right there on the Isle of Skye.
As the boat gently made its way out of the harbor, we got to know some of the other travelers.  There were only eight or ten of us total, so it felt nice and intimate.  I really appreciated the small group.  As I always say, talking to people I meet while traveling is one of my favorite things to do.  On this trip, we met a really nice German man named Jen.  He and I talked tech for a while.  I showed him my EVO gimbal and he told me about his work in acoustic engineering, which was really impressive.  We talked about life in our different countries and shared some nice laughs.
It didn't take long for the views to open up to picturesque scenery.  The ocean reaching out to rock formations and snow-capped mountains, green hills with old castles on them…  it felt very much like we were seeing a fairy tale storybook come to life.
I handed Jolene my camera so I could shoot some video and I caught this screen cap of her as the sun began to set.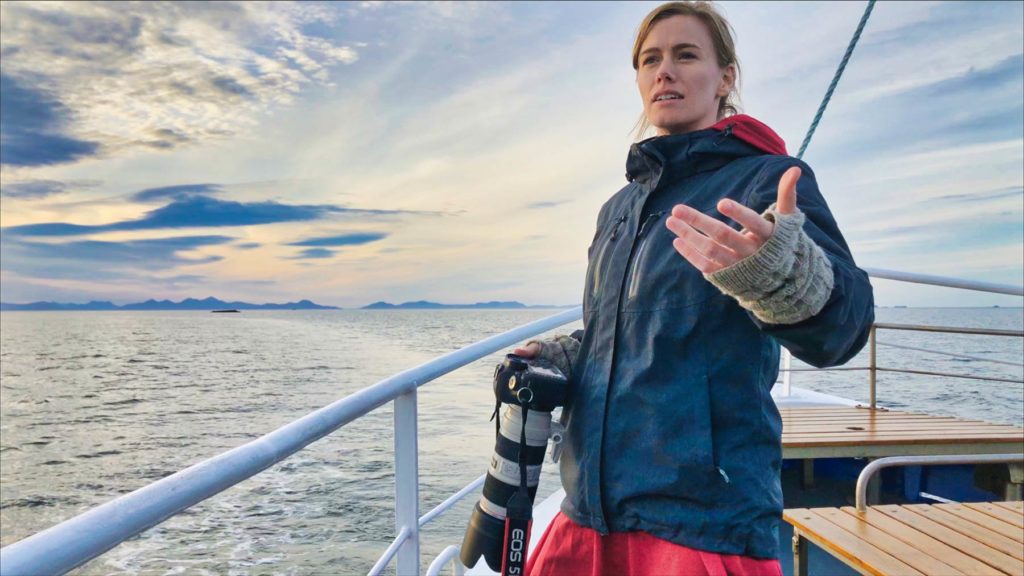 One of the first highlights of the cruise was actually being able to hang out with Captain Tom on the bridge.  He not only welcomed the company, but as we had come to know with all the people we met in our travels in Scotland, the conversation was immediately real.  We chatted about the journey each of our lives had known, what life was like on Skye, how we had each gotten to where we were, and shared many a joke.  It honestly felt like we were on a boat with an old friend, not a stranger.
I returned outside to take in the view and ended up hanging out with Duncan for a while.  I then saw something in the distance on the starboard side that looked liked a series of floating pools.  Duncan's face quickly went from his seemingly ever-present smile to one of sadness.  He explained that those were aquaculture farming nets, something many people in the UK were concerned about.  I'd never seen them before and as we got close, I could see the salmon jumping under the massive nets.  If you look at the center of the photo below, you'll see the splashes from the fish leaping in and out of the water.
I'm not going to delve too deeply (pun intended) into the controversy of commercial fish farming here because that's not the purpose of my blog, but I do feel compelled to say that regardless of where you stand (or swim, haha) on the issue, when you see these massive nets in person, and find out the sheer numbers of fish that are confined to each space, I think it's difficult not to feel pretty badly for those animals, regardless of the fact that they end up on a plate.  It's an issue worth looking into on your own.  Google things like "aqua farms," "aquaculture parasites," and "effects of aqua farming on the environment."
That said, we continued on past the aquaculture farm, and were soon greeted by sea lions and about five different species of sea birds.
And then… we saw puffins!
They were diving into the water and skimming along the surface so fast!  It was amazing!  I tried to capture them on video, as you'll see in the highlight video below.  They are adorable and a lot more adept than I thought they'd be.  I honestly thought that since they looked like a cousin of the penguin, that their mobility would be similar, but that was not the case!
Over the couple of hours that followed, we saw a lot of animals and got to enjoy the very slow setting of the sun. It sets slower the further north you go from the equator, and it's actually a very interesting and surreal experience, especially if you come from most parts of America.  You stand there, watching the sun set, having enjoyed a long day of fun activities, and as the sun starts to go down, your body tells you that it's going to be dinner time very soon, something you've been accustomed to.  Then you look at your watch… and it's 10:00 p.m.!  It's a bit weird, but once you get used to it, you wish you had this much daylight most of the year because you can do and see so much more.
But enough chit chat!  How about a video?!  If you'd also like to see more photos from our boat cruise, click here to head on over the the Skye Cruises Photo Gallery!
Lastly, if you ever find yourself on the Isle of Skye, head over to Uig and take in a boat cruise.  It's a lovely few hours you'll be glad you spent.  And please tell Tom and Duncan we said hello. 🙂
Moonbird's Helpful Info:
Skye Cruises
Website: skyecruises.com
Location: The Pier, Uig, IV51 9XX, Isle of Skye, Scotland
Google Maps:  Click here
Best time to visit:  Anytime!
Scotland's Seasons are: Spring: March, April and May, Summer: June, July and August, Autumn: September, October and November, and Winter: December, January and February.
E-mail: info@skyecruises.com
Phone: +44 (0)7469 720621
Instagram:  instagram.com/skyecruises/
Facebook: facebook.com/SkyeCruises
Twitter: twitter.com/SkyeCruises
---
---
You might also like
---